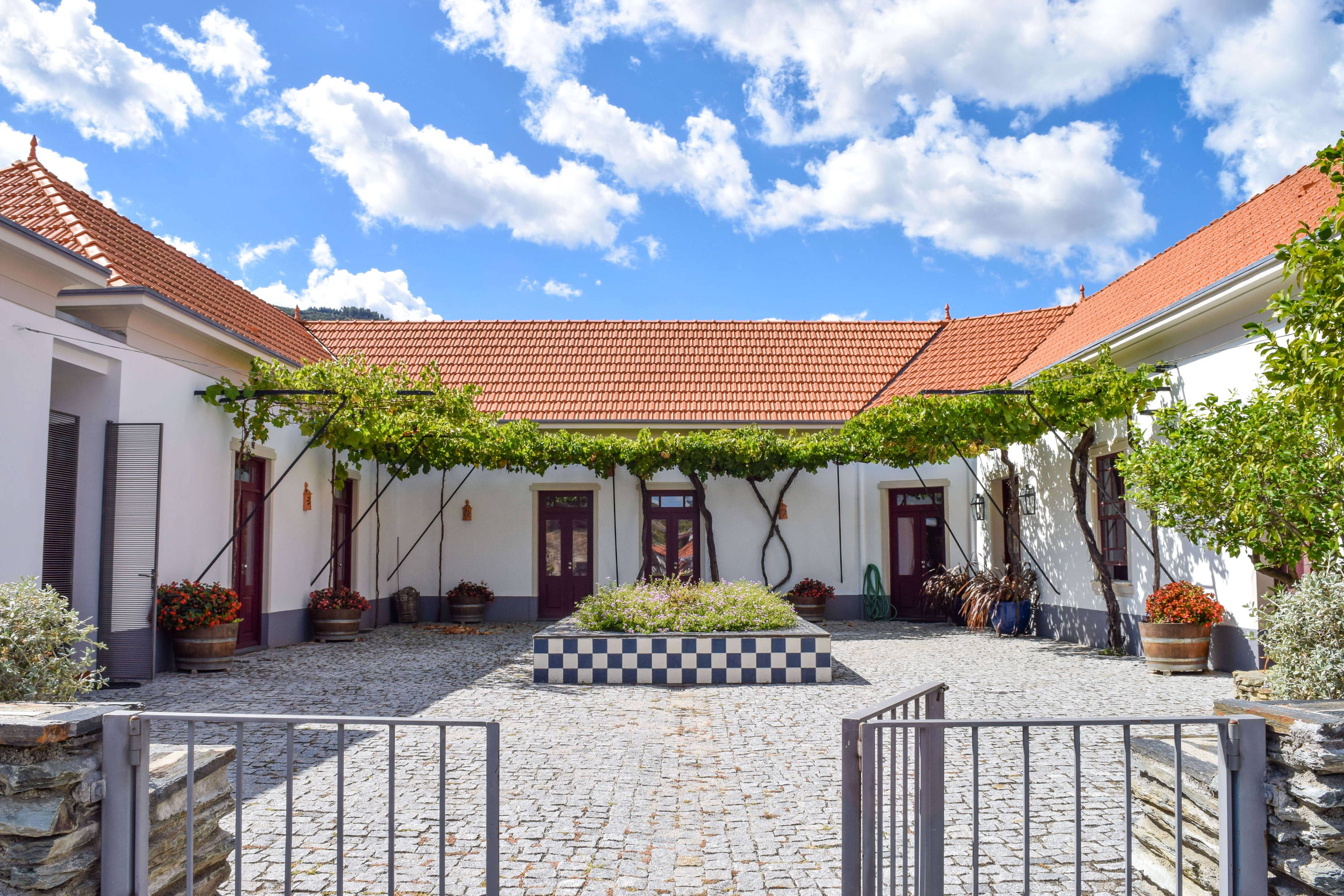 As Portuguese wine, food and textile importers, our team at Farah Trading Co is split between the US and Portugal - with lots of travel in between. Our team members on the ground in Portugal have put pen to paper to give you Farah's Insider Guides to Portugal. From visiting Lisbon to the beaches of the Algarve to the wineries of the Douro Valley - we have you covered!
Author Odile Bouchard / Category Travel / Published: September 23,-2021
Many visitors land in Porto expecting to see vineyards right out their airplane window, and we cannot blame them - while there's A LOT of information out there to help guide your Douro Valley excursion, it sometimes fails to address the most basic questions.
Let's start by clarifying that the vineyards and wineries (or Quintas) where grapes are grown, harvested and fermented into wine are located in Douro Valley, 130km (a little more than 80 miles), inland, due east from Porto, where Port wine was historically aged in cellars and bottled before shipping abroad.
Some Douro Valley Quintas - like Quinta do Tedo and Quinta Nova - grow their grapes, and produce, age and bottle their wines all on-site. Farah has chosen to partner with these boutique family-owned Quintas because they closely follow their product from vine to bottle, their high-quality wines are hard to find stateside (besides via Farah Trading Co!), and they offer a more holistic wine tourism experience in the terraced-vineyard region where all the action happens!
Let Farah's team of Douro Valley regulars facilitate your travel planning to the heart of Portugal's most well-known wine region with some fundamental information and insider's tips below.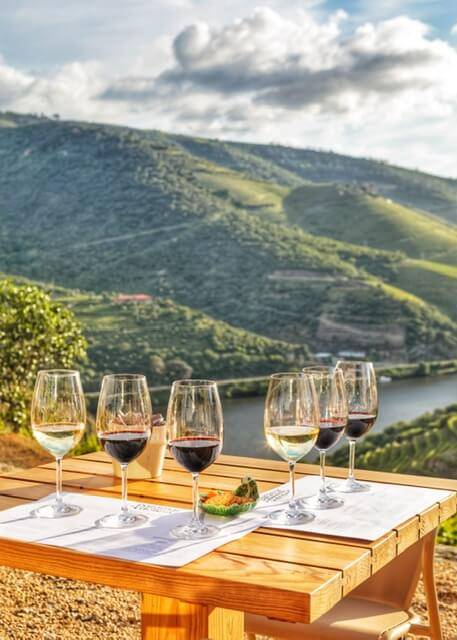 When to visit the Douro Valley?
Locals say a year in Douro Valley is made up of nine months of winter and three of hell. While Portuguese are self-proclaimed dramatists and climate change might have helped moderate (to some extent) scorching summer temperatures, the saying holds true.
Douro Valley has hot, dry summers and relatively cold, rainy winters. July through August, temperatures range from the 80s - low 100s, while January averages in the 40s and 50s. The spring and fall are the most temperate times to visit… but you may want to let the vines and seasons help you decide!
Between February and March, the almond and cherry orchards bloom, painting the somber post-winter landscape in tufts of pink and white. From the end of March through June, the vineyards' buds break open and their shoots and leaves grow ferociously, filling the hills with vibrant green.
Between April and June, migratory birds fly in, complementing Douro's already rich diversity of resident species. But flora and fauna are not alone to emerge from their winter slumber… late spring's warmer weather opens patios for al-fresco dining and beckons nature lovers to explore Douro's network of certified trails on foot or bike (we'd opt for an electric bike to boost up uphill, or to pedal the flat N222 on a Sunday when there's less traffic!)
Between July and September, Douro Valley buzzes with tourism and harvest preparations. Portuguese, like most Mediterraneans, live for summer when towns come to life with open-air fairs, music and dining until the wee hours. Savour a vineyard picnic, embark on a boat tour, hit up one of Douro's quaint river beaches and don't forget to look up at the pristine starry night skies. Take note, if travelling by car, you will definitely be delayed in transit due to harvest tractor traffic!
Towards the hotter end of summer, locals find a week or two to embark on their annual beach migration. But lucky us, the businesses that prepare all year for this peak moment in international tourism - Douro's best restaurants, hotels, wineries and experience providers - remain at your disposal. You can also tap into a half- or full-day experience of the harvest hustle - incredible in this terraced region that shies away from industrial production and uses old school techniques like foot treading in granite lagares (aka open fermentation vats).
Between October and November, the apple harvest on the high plains near Armamar is followed by the olive harvest, when you can observe locals whacking olive trees with long sticks to make it rain olives,the traditional way. Fall welcomes a whole new flock of migratory birds and incredible hues of vibrant red, warm orange and majestic gold as the vineyards change colours. Did you know that while red grapevine leaves turn from red to orange to yellow, white grapevine leaves turn straight yellow due to their lack of color?
Between December and January, while the cold weather and barren vines may deter some travelers, it is also a great time to visit as you can observe the pruning of the vines and enjoy the quiet drop-off in tourism (and those low-season hotel deals!). Douro's melancholic winter scenery pairs beautifully with a glass of velvety Port or rich Douro red wine by the fire and heartier local dishes.
The bottom line is - Douro Valley will be a beautiful region with lots to do no matter what time of the year you come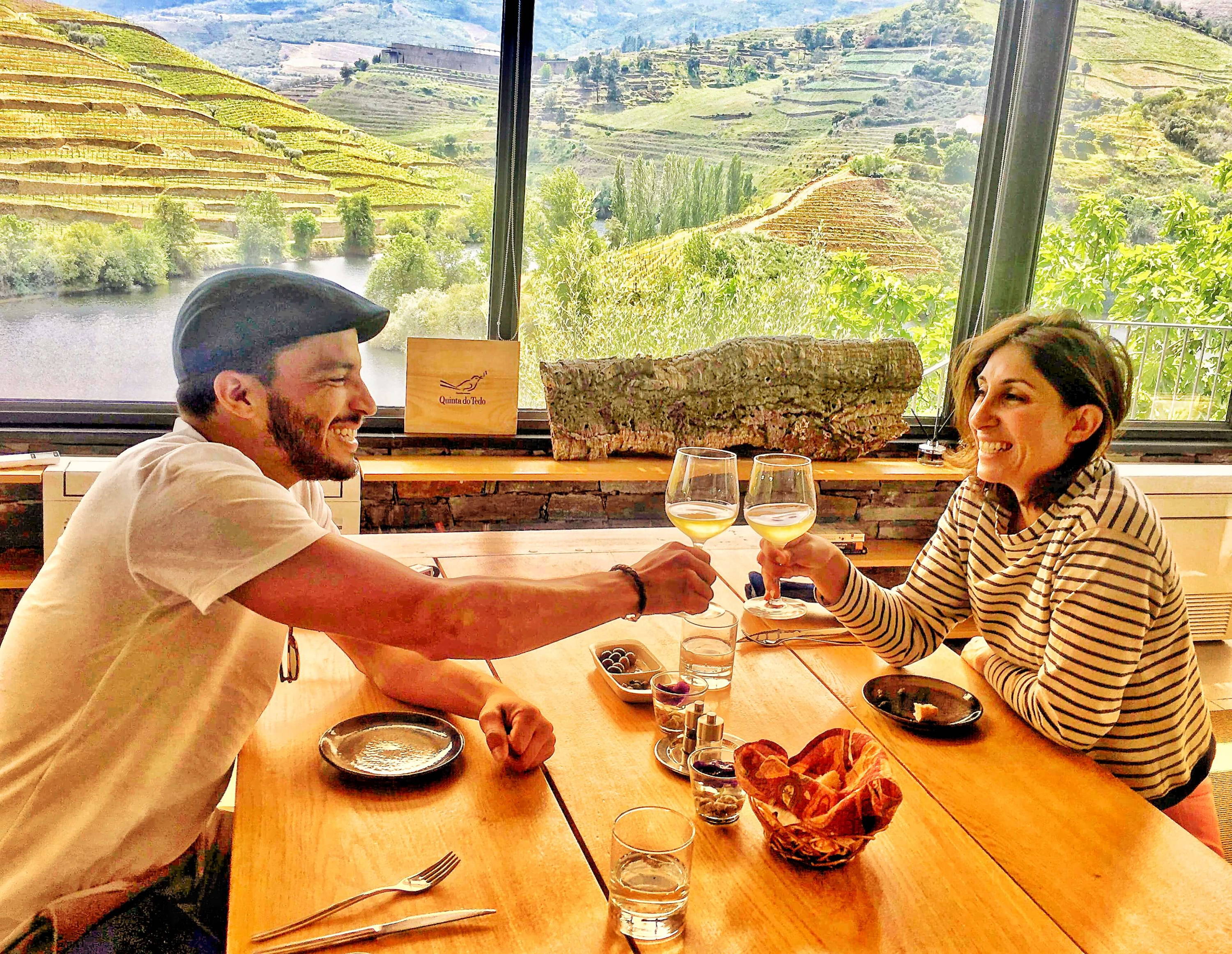 How to get there and move around?
If you are interested in visiting wineries and small off the beaten path towns, I would suggest renting a car in Porto and driving to Douro Valley. The ride is under two hours and the beautiful views towards the latter leg of the journey will build hype for the rest of your journey! Once in the valley, you'll have the flexibility to traverse its three unique sub-regions (Baixo Corgo, Cima Corgo, Douro Superior), explore some of its hidden gems and best day trips with your own set of wheels. A word to the wise - while the recently-built highway is smooth-sailing, the national roads that connect the wineries and traditional towns are windy and difficult.
Those looking for a more relaxed ride can take the 2.5-hour train from Porto which snakes along Douro River and provides an absolutely gorgeous journey. Stops in smaller towns and villages are frequent, but we suggest you get off in Régua (Douro's most dynamic and largest town), Pinhão (quaint and walkable) or venture all the way to Pocinho (near the border of Spain, from where you can access Foz Côa). For the ultimate chill experience, you could take the 7-hour boat ride upriver from Porto to Régua, or the 2.5-hour boat ride from Régua to Pinhão. While Uber hasn't quite yet hit Portugal's most famed wine country, affordable taxis can be called from any hotel and the drivers usually speak English, are absolute peaches and save you from needing to sacrifice yourself as a designated driver on vacation in wine country!  
Finally, while we suggest you spend at least one night in Douro Valley to fully embrace its magic, if you are tight on time, you can embark on a full-day tour with pick up and drop off in Porto. Luxury Douro Tours, EV Tours and Cool Tours have some of our favourite guides and pit stops amongst the many great tour companies offering pre-selected itineraries or with whom you can develop your own (to include ideally 2 or no more than 3 winery visits to avoid fatigue!)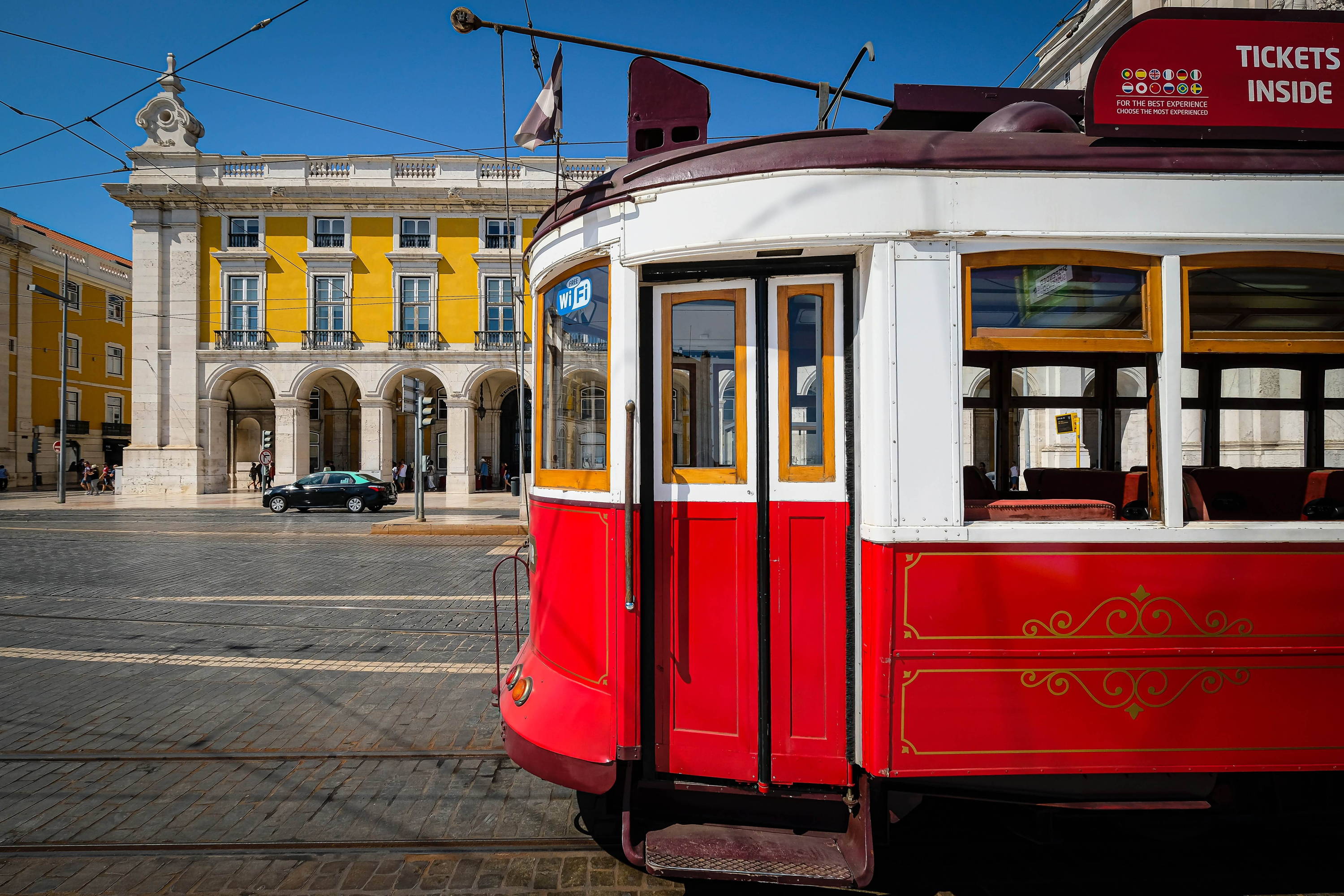 Deciding to stay in a town or at a Quinta will shape your Douro Valley experience differently. Most towns are small and charming and have more diversity of dining options. Most Quintas offer a full package - dining, sleeping, fun and relaxing activities all in one spot - surrounded by not much other than beautiful vineyards and nature. The good thing is, whichever ambience you decide to call home-base, you can (and should!) drive, taxi or train out to explore the other.
Vila Real and Lamego are the larger cities on either side of the river. While they have more to offer in terms of restaurants, shopping and cultural points of interest (such as the Igreja da Nossa Senhora dos Remédios in Lamego or Mateus villa and gardens outside of Vila Real), they are a 30-minute drive from the heart of Douro Valley, its riverfront and Quintas. As you are most likely coming from the urban hubs of Porto or Lisbon, we suggest you dive full-on into Douro Valley's rural charm by staying in one of its smaller towns or Quintas and venture out to these cities for a day trip.
Régua is the gateway into Douro - the largest and most dynamic riverfront town with a train station. Check out the weekly market on Wednesdays and Saturdays, the Museu do Douro and the restaurants, petiscarias (traditional joints for Portuguese tapas), cafés and shops that line the renovated wooden train station walkway and cobblestone streets in the historic centre or along the riverfront esplanade. This is a good hub from which you can visit Lamego, Vila Real, Armamar - Portugal's Mountain Apple Capital, and the impressive monastery in Tarouca.
Pinhão is a petite town with a train station further upriver. It's more charming than Régua, has less to offer in terms of dining and shopping, but is also a good starting point from which to visit other quaint towns, such as Alijó, Sabrosa, São João de Pesqueira and Quintas, such as Quinta Nova, Quinta do Tedo, Quinta de la Rosa, Quinta do Bomfim, nestled along the river in Cima Corgo, the heart of Douro Valley. You can also venture further out of Douro for a day trip to Mirandela or Foz Côa.
Now, if you really want to live an authentic and full slice of Douro Valley life, we suggest you stay at one of these Quintas, listed in order of how deep into Douro Valley they are: Quinta da Pacheca, across the river from Régua, offers unique luxury rooms in gigantic, converted wine barrels. Practically facing each other on either side of Douro River are Quinta do Tedo - small, cozy and stunning - and Quinta Nova - private and luxurious on a hilltop. Charming Quinta de la Rosa is further upriver and walkable from Pinhão.
For an equally memorable experience at a more traditional hotel, we suggest the very high-end Six Senses retreat near Régua or the classy Vintage House in Pinhão.
We hope you enjoyed our guide to visiting the Douro. Our next post on the Douro Valley will chronicle our top picks for wineries, restaurants and more!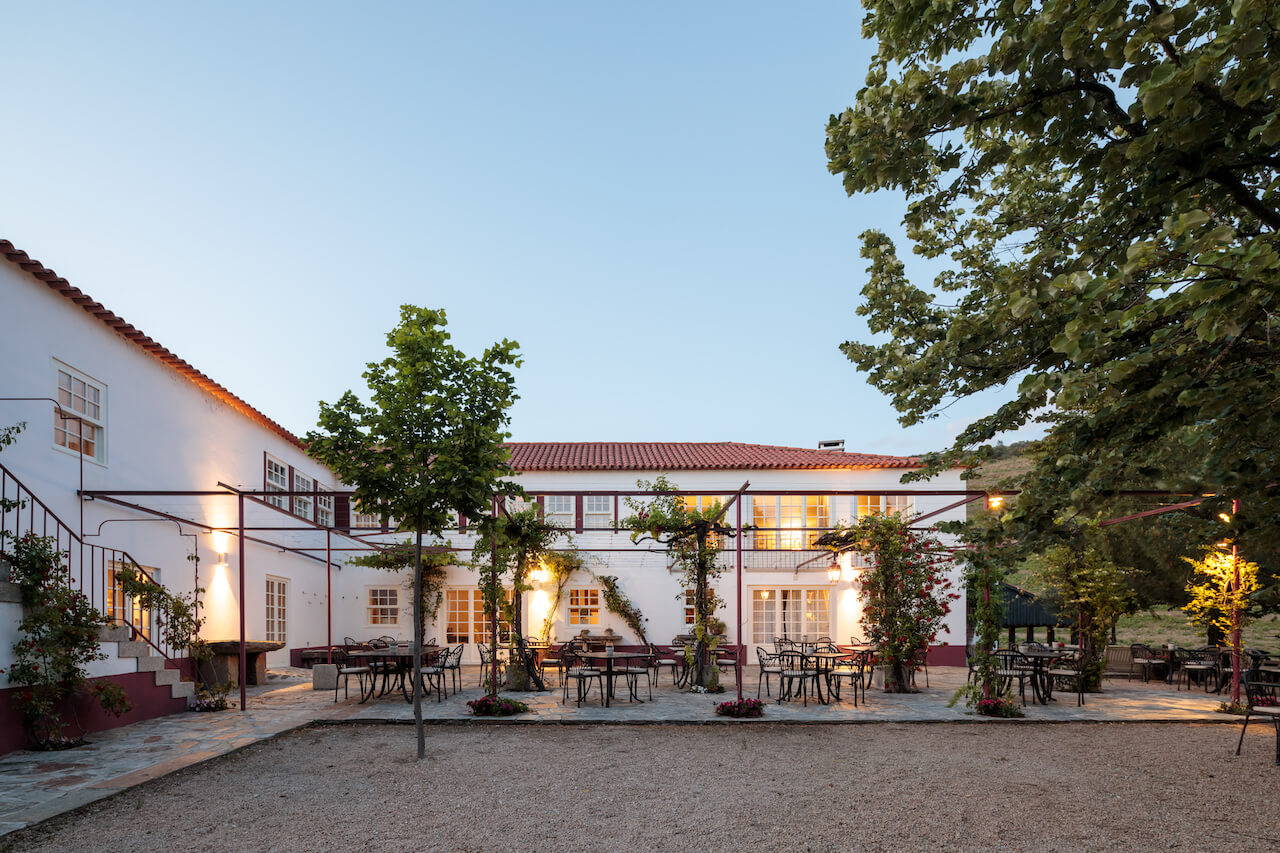 Douro Valley has hot, dry summers and relatively cold, rainy winters. July through August, temperatures range from the 80s - low 100s, while January averages in the 40s and 50s. The spring and fall are the most temperate times to visit… but you may want to let the vines and seasons help you decide!
We hope you enjoyed these Portuguese insider tips and fun facts! Cheers - The Farah Team
Odile Bouchard / Category Portugal Travel