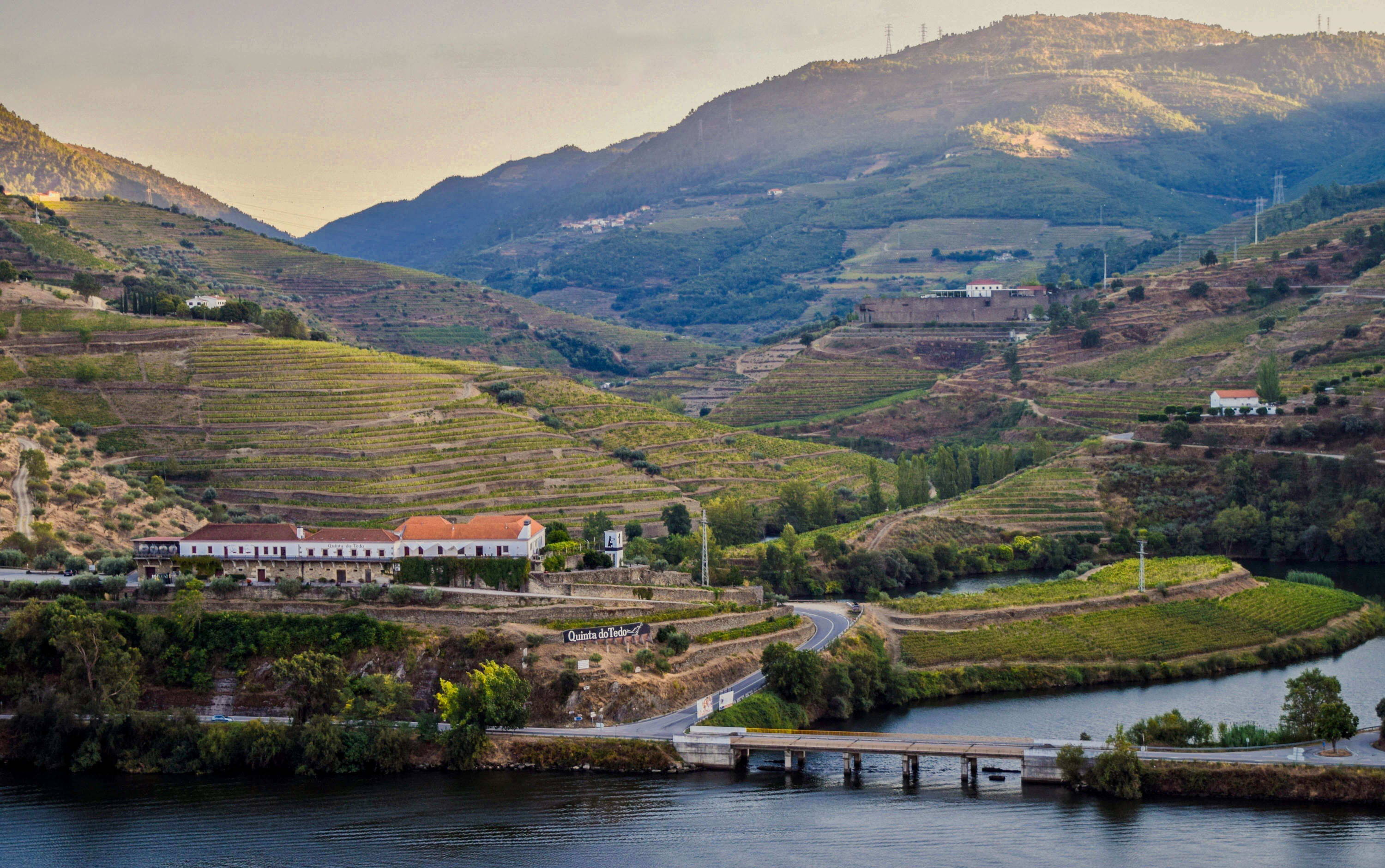 As Portuguese wine, food and textile importers, our team at Farah Trading Co is split between the US and Portugal - with lots of travel in between. Our team members on the ground in Portugal have put pen to paper to give you Farah's Insider Guides to Portugal. From visiting Lisbon to the beaches of the Algarve to the wineries of the Douro Valley - we have you covered!
Author Odile Bouchard / Category Travel / Published: October 6,-2021
Now that you have a better grasp on the history and the lay of the land in Douro, as well as some tips on where to go and how to get there, Farah deems you ready for a comprehensive list of the best places to eat, drink and take in this stunning vineyard-terraced valley's fascinating heritage.
A Few of Farah's Favorite

Douro Valley Quintas
Since 1992, the Burgundian-California Bouchard Family has poured their hearts into renovating Quinta do Tedo's 18th-century foundations into a charming winery that produces internationally-acclaimed Ports, Douro DOC wines and Extra Virgin Olive Oil. Here, Tedo's friendly and professional team of locals welcome you to discover a slice of authentic Douro Valley life. Enjoy various tours and tastings, a wine picnic, Bistro Terrace's dining room, five charming B&B rooms, walking trails, bird-watching and stunning views over the estate's 34 acres of certified organic vineyards and olive groves. Located at the confluence of Douro and Tedo Rivers just off the N222 highway (rated one of the world's best drives!) Quinta do Tedo is a no-brainer pit stop!
While Quinta Nova seems like a stone's throw across the Douro River, it's a windy and beautiful drive from Tedo (45 minutes through Pinhão) or Régua (1 hour through the São Leonardo de Galafura viewpoint). The Amorim Family - important Portuguese cork producers as well as the team behind Quinta da Taboadella in Dão - have elevated this traditional Quinta into Douro's first luxury accommodation with spacious, elegant rooms and incredible views. Quinta Nova's wine tastings and "Winemaker for a Day'' experience highlight the estate's award-winning traditional AND innovative Douro DOC wines and a few Ports. The wine museum and Terraçus molecular cuisine complete Quinta Nova's comprehensive offer of premium wines, facilities and services that raise the bar and put Douro Valley on the map as a luxury wine destination.
Pinhão is home to two other Quintas with unique history, wines and tourism experiences that complement Farah's partners' mentioned above. Quinta de la Rosa is owned by the English Berqvist family, and feels soulful like Quinta do Tedo (in fact, the families have been friends since the late 90s and the "next generation" are active players spearheading innovation at both estates).
Quinta do Bomfim is the premium vineyard site for one of the larger quality Port producers. Known worldwide, Symington Family Estates of Scottish heritage, is where you can see impressive mechanical treading systems and sustainable developments revolutionizing the centuries-old Port industry.
If you're keen to hit two of Portugal's best wine regions in one day, stop by Quinta de Covela or Quinta da Santa Cristina in Baião (both in Vinho Verde's most southern subregion) during your stay or on your way to or from Porto. Both estates are beautiful, family-owned, practice sustainable viticulture and produce award-winning wines made in a different climate and style and with different grape varietals than Douro, (try the bright and refreshing white Avesso varietal!)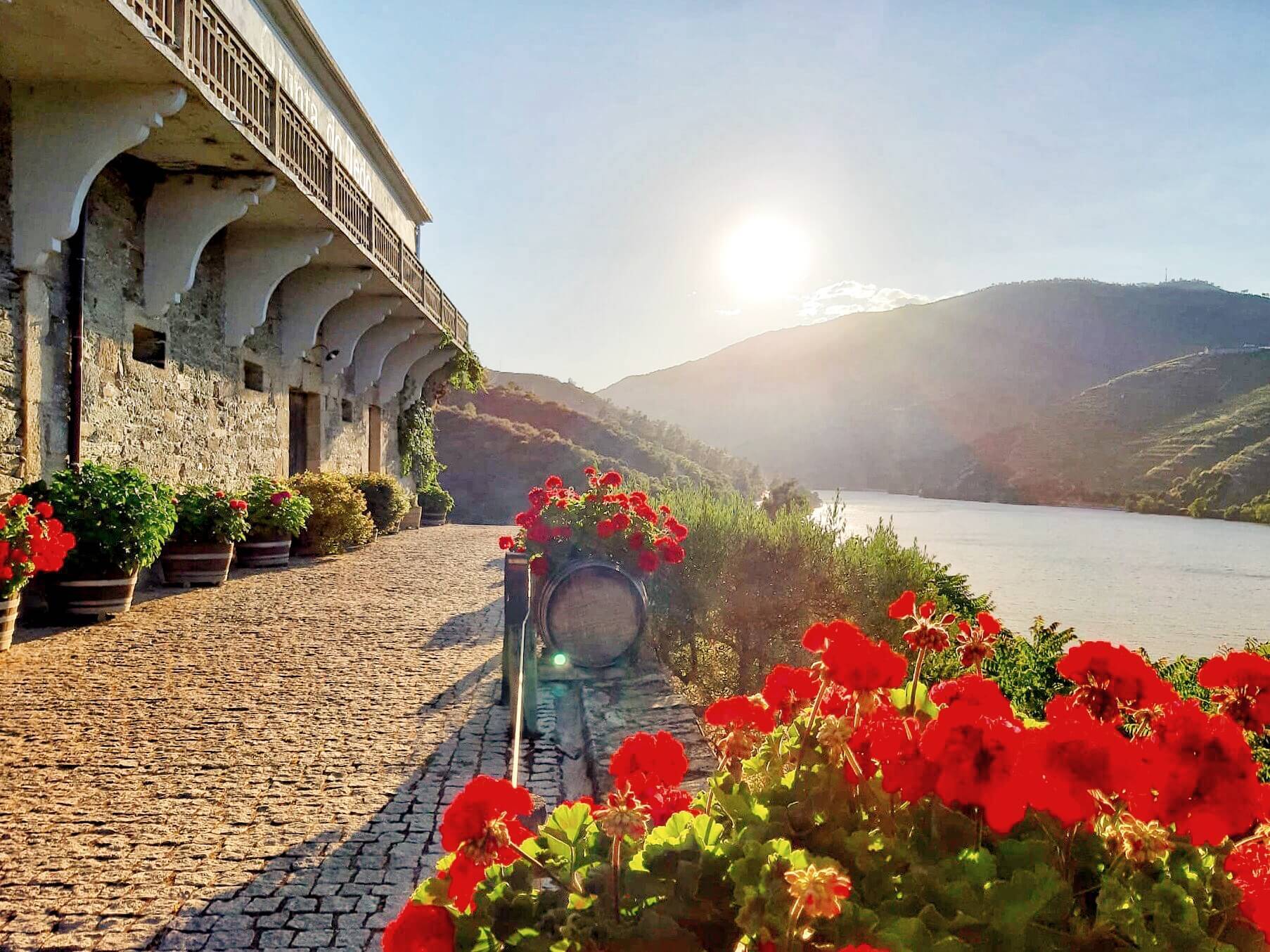 What and where to eat in the Douro Valley
Where there is great wine there is great food! Douro's gastronomic treasures include hearty and flavorful dishes that fuel workers and families, fresh local produce, and centuries-old cooking techniques that are still upheld in typical restaurants or respectfully "updated" by local chefs. Below is a list of Farah's favorite dishes, followed by some pointers on where to find them.
Soups like caldo verde (potato and turnip greens) or sopa de legumes (light and vegetable-based) are ubiquitous starters for lunch à moda portuguesa (the Portuguese way). Normally, petiscos (tapas) replace soup to "open" one's stomach for dinner. Farah suggests the moelas (tender chicken gizzards cooked in a spiced sauce), alheira (typical sausage from Mirandela made with bread, garlic and, historically, with wild pigeon and rabbit, but more contemporarily with chicken and pork) and other enchidos (regional cured meats such as paio, salpicão, chouriço and Lamego's famed presunto) and local cheeses.
Moving on to main dishes, try feijoada a transmontana (bean stew with a variety of "porky parts"), cozida a portuguesa (fall-apart beef and pork boiled with cabbage, potatoes and carrots) and wood-oven fired specialties like arroz de pato (duck confit rice), cabrito (baby goat typical of Armamar) and bacalhau com broa (cod with a cornbread crust). If you have a hankering for vegetables, ask for couve (cabbage), grelos (turnip greens) or other legumes (vegetables) to sub in for the staple rice and potatoes or as a side dish. apart. During August, look out for tomate coração de boi-anything, made with succulent oxheart tomato that thrives in Douro.
While ripe, seasonal fruit like melão (honeydew melon) makes for a light and cleansing dessert, requeijão (fresh cheese similar to ricotta) with homemade quince or pumpkin jam is a typical alternative to Portuguese desserts that tend to be rather decadent. But as you're on vacation to enjoy yourself, ask for baba de camelo ("camel's drool" caramel mousse), leite queimado (similar to créme brûlée), pudim abade priscos (dense flan), tarte de amêndoa (almond tart) or bolo borrachão ("drunken cake" cooked in Port) to share!
Refuel between meals with a slice of savoury bôla (fluffy dough filled with ham, chicken, cod and onions, or vinho de alho meat cooked in wine and garlic - the best are from Lamego's Casa das Bolas) and a fino (Superbock or Sagres on draft), or a sweet cavaca de Resende (sponge cake soaked in orange-flower syrup) or pito de Santa Luzia (pastry filled with sweet pumpkin and cinnamon) with an espresso.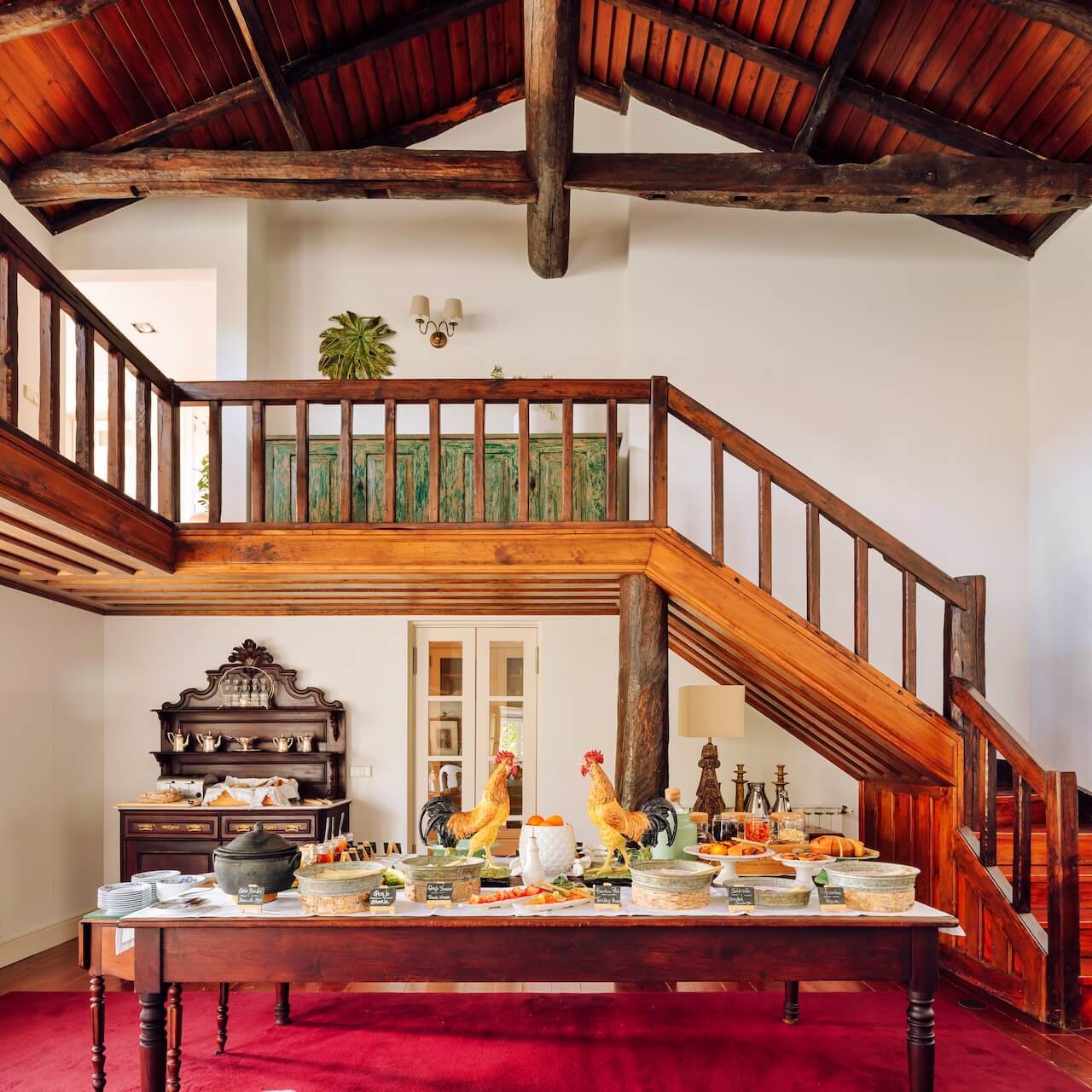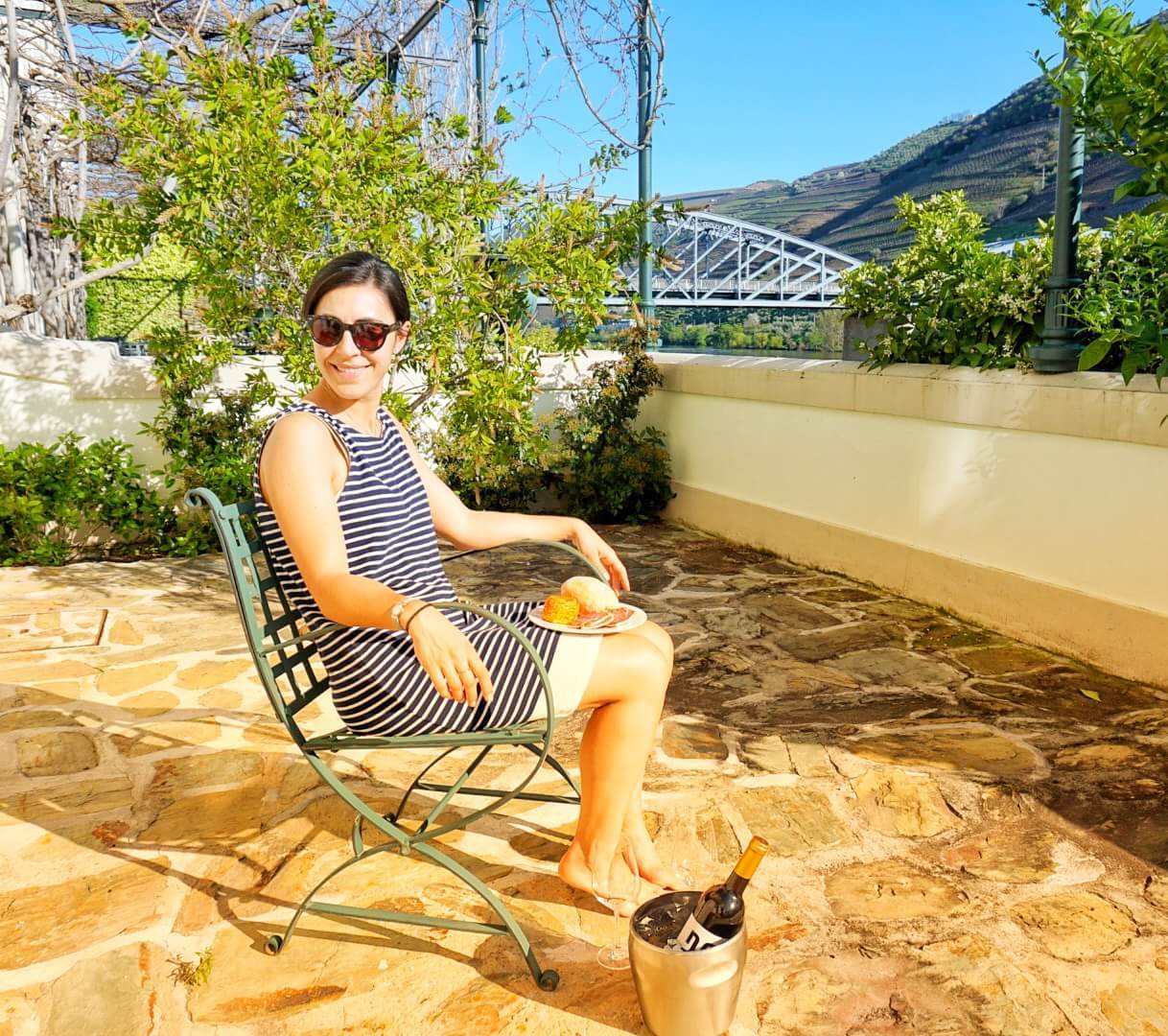 Remember, what grows together goes together - you can't go wrong pairing Douro's traditional flavors with its quaff-able vino de casa (house wine), award-winning Douro DOC wines and luscious Ports!
Head to a typical tasca or restaurant for the above specialties in their old school form, usually served in-tune d with the rotating weekly menu that ranges between 8-12€ ($9-14 USD) and includes a soup, main course, dessert and beverage. Take note, one main course in these generous eateries is usually enough for two (Portuguese's worst fear is to go home hungry) and Portugal is not Spain - restaurants serve from 12h-15h and 19h30h-22h30 (12-3pm and 7:30-10:30pm).
Taste some of Portugal's best Chefs' modern interpretations of Douro's traditional cuisine and take your wine tasting experience full-circle at a Quinta's restaurant or more "refined" establishment. Here, the interior design, plating techniques, service, staff's wine education, glassware, wine list, Chef's training and highest-quality products make for a memorable meal definitely worth an extra couple bucks (still NOTHING close to what this flavor and experience would cost Stateside!)
For a delicious, local, no-frills experience, Farah suggests:
Farah's favorite Quinta and finer-dining restaurants include:
Finally, in between meals, check out O Pôrco in Pinhão for a smorgasbord of regional cheeses and charcuterie or Quinta de la Rosa's informal patio, Tim's Terrace, serving not only Douro's best wood-fired oven pizzas but only craft beer (open Wednesday-Sunday during the summer from 13h-17h/1-5pm).
There you have it--a comprehensive list of where to eat, drink and make merry while visiting the Douro Valley. Stay tuned for our next installment of Douro Valley insider tips when we share where to go and what to do to experience the unique culture of the Douro Valley to the fullest.
We hope you enjoyed these Portuguese insider tips and fun facts! Cheers - The Farah Team
Odile Bouchard / Category Portugal Travel