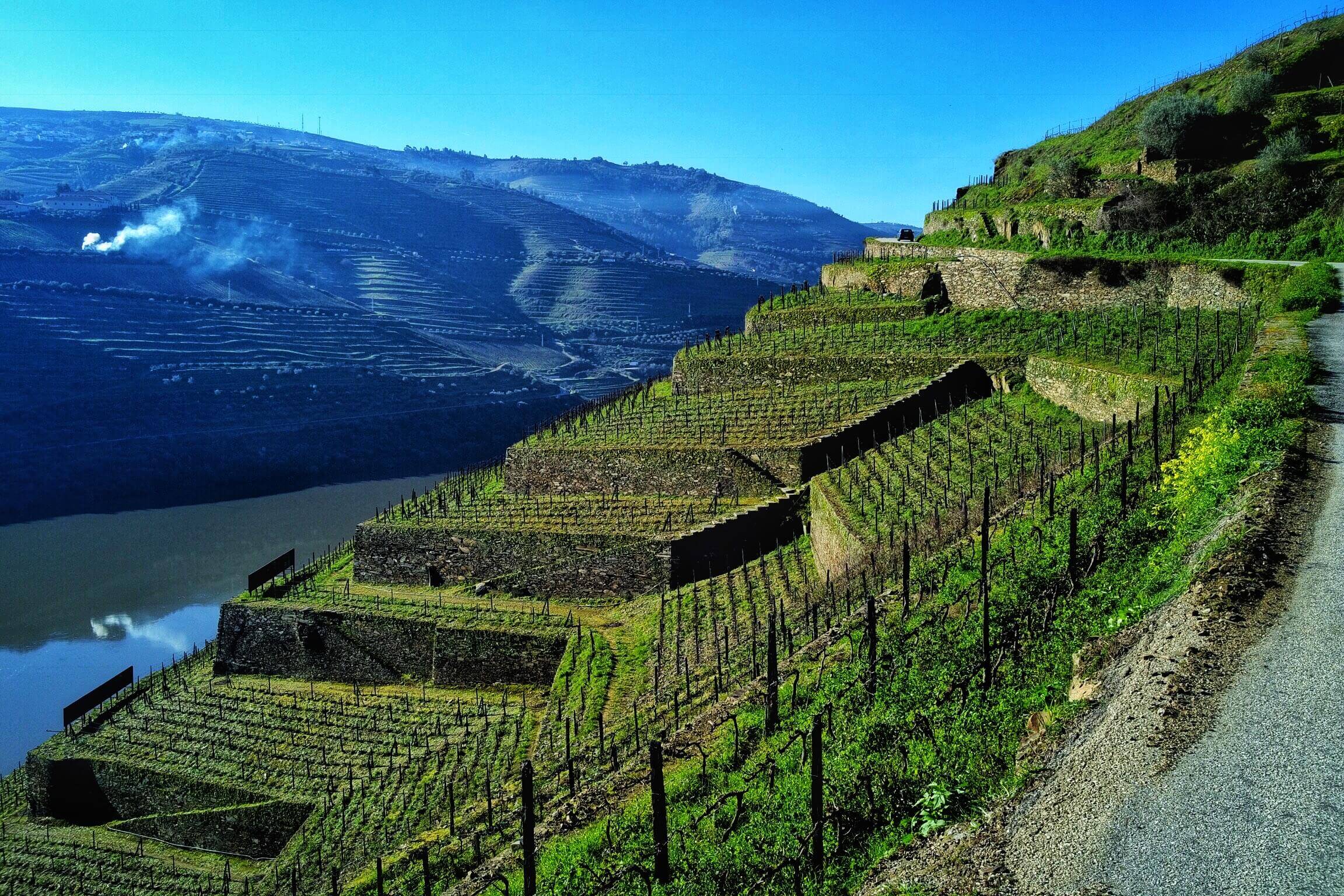 As Portuguese wine, food and textile importers, our team at Farah Trading Co is split between the US and Portugal - with lots of travel in between. Our team members on the ground in Portugal have put pen to paper to give you Farah's Insider Guides to Portugal. From visiting Lisbon to the beaches of the Algarve to the wineries of the Douro Valley - we have you covered!
Author Odile Bouchard / Category Travel / Published: September 10 -2021
Portugal's most influential 21st-century poet, Miguel Torga, a local Duriense - a Douro Valley resident, described Portugal's Douro Valley as a "geological poem." Perhaps you can already SEE why, but only a visit to Douro Valley will help you EXPERIENCE why.
In the following 3-part blog series on Douro Valley, we'll share the historical context and travel tips you need to navigate Douro's incredible man-built landscape, friendly and hardworking people, flavorful dishes, fine wines, Ports and rich culture. Read on!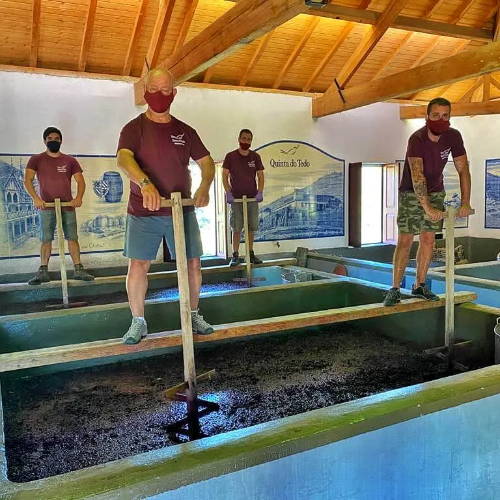 Let's start with some Douro Valley history...
The Portuguese & English

Lucky for us, Port wine labels and the brands that make them are surprisingly easy for English speakers to digest as they are written in English, not Portuguese. In fact, Port wine was historically made by the Portuguese to be consumed by the English.
Portugal and England have had a strong relationship since the mid-17th century, after Eleanor of Aquitaine severed France's ties with England, sending the English somewhere other than Bordeaux to satiate their vinic needs.
A SHIFT FROM VINHO VERDE TO THE DOURO VALLEY

T
heir first point of contact with Portugal was Viana do Castelo in the north, Portugal's most important Port back then. From there they sourced weak red wines made with light and astringent Vinhão, one of Vinho Verde region's few native red grapes that produced something similar to the claret (aka
pale
) wines the English were used to from Bordeaux.
Eventually, the English ventured south in search of something stronger, which they found in the richer, more complex and alcoholic wines from the Douro Valley's hot and arid climate; they looked no further!
trade increases



The 1703 Methuen Treaty came with a three-fold decrease in duty charges on the trade of Portuguese wines and English textiles. Eventually, English, as well as Scottish, German and Flemish traders, installed themselves in the city of Porto and, instead of transporting Douro Valley wine over the mountains by oxcart to Viana do Castelo, they sailed it downriver on flat-bottom rabelo boats to Vila Nova de Gaia, opposite Douro River from the city of Porto. They aged the wine in cellars before shipping it overseas, hence the name Port linked it to its departure from Porto's main port.
Fortification & Sugar; Port as we know it is born
The traders fortified their Douro Valley dry wine with aguardente, a neutral grape brandy, to protect it from spoiling as it floated under the hot sun from the Douro Valley to Porto and then overseas. Would you not imagine dry red wine with 20% alcohol tasting, well, rather bad?
It wasn't until an extremely hot harvest in the 1820s that Douro's grapes produced more sugar than their yeasts could ferment and the wine was fortified semi-sweet. The English found this version of Port much more palatable and demanded the Portuguese pick their grapes riper and fortify their wine before it was fully fermented - that's Port as we know it today! 
Elderberry, Crisis & Regulation
As English demand for Port grew, the "clever" Portuguese began blending it with cheaper grapes from other regions and even deeply-coloured elderberry juice to bulk up their production and thus profits… or so they thought. The English quickly lost their appetite for and trust in this low-quality Port and demand decreased, driving the Port industry, which had become reliant on the English market, into a state of crisis.
That's when the Marques de Pombal came to the "rescue", ripping out the elderberry trees, supervising the movement of grapes in and out of Douro and physically delineating the boundaries within which Port could be made with 300+ feitorias (or granite stone pillars). Douro Valley became the first-ever demarcated and controlled wine region in the world!
PORT TODAY
Today, century-old rules have helped Port maintain its high-quality reputation. Port comes uniquely from Douro Valley and is produced according to the beneficio quota which is announced each year and depends on global demand for Port, the amount of Port in stock and the quality of the upcoming harvest, and differs for each Quinta depending on their vineyard's grade (i.e. grade A vineyards receive a higher quota to produce more quality Port each year).
THE DOURO VALLEY'S DRY WINES
If the beneficio changes every year, but the vineyards don't stop producing, what do Douro Valley Quintas do with the surplus of grapes that do not fit into their quota to produce Port? Douro dry wines!
Historically, Port was revered as Douro's more profitable wine for export and most Douro dry wines were produced in cooperatives for cheap national consumption. However, after the fall of Salazar's dictatorship in the late 1960s, independent Quintas started producing and commercializing higher-quality Douro dry wines. With Portugal joining the EU in the 1980s, interest in Portugal's dry wines grew with tourism and, as the beneficio continued to limit Quinta's Port production allowances, it became easier AND necessary for both large and small Quintas to produce more quality Douro dry wines.
Today, wine critics and consumers all over the world are incredibly excited about Douro's dry red, white and rosé wines not merely as Port's byproduct, but as shining stars on their own, bringing novel recognition and promise to this classic wine region!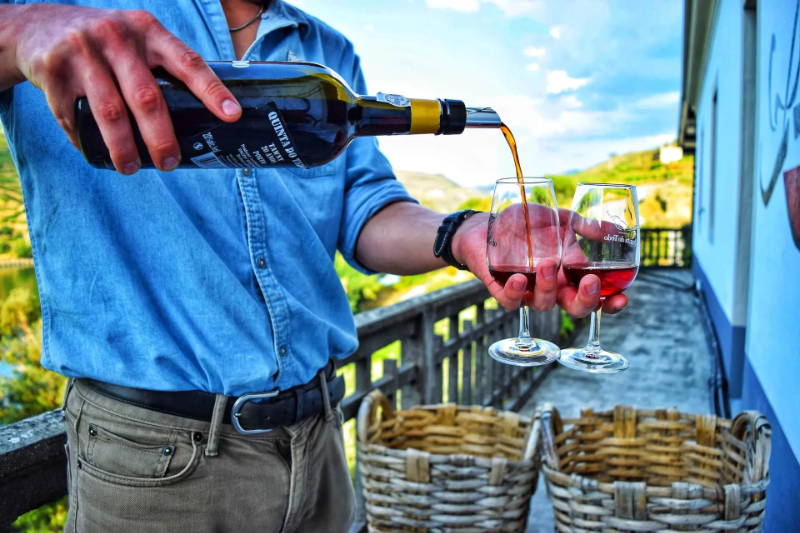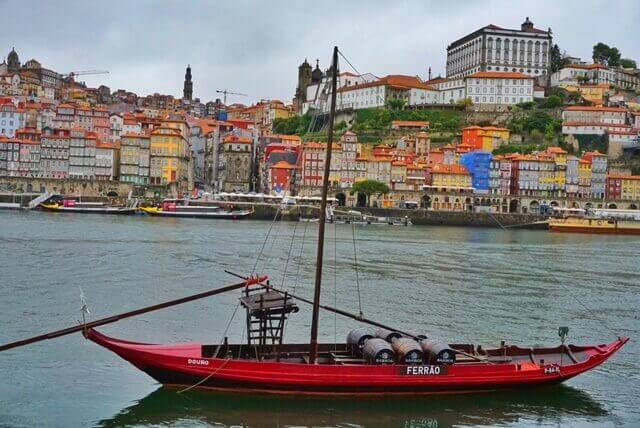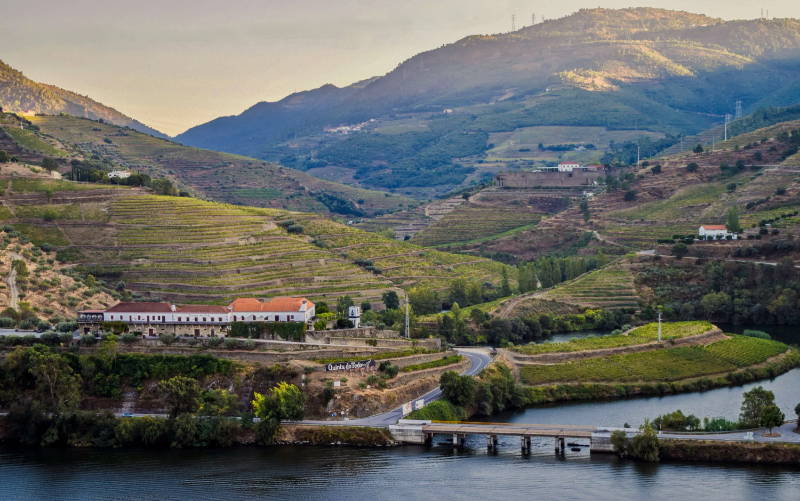 The lay of the land and styles of wine
Remember, while Port is AGED in Vila Nova de Gaia's cellars across the Douro River from Porto, it is MADE 130 km away in the Douro Valley's dramatic, steep, terraced vineyard, river valley - classified UNESCO World Heritage Site in 2001.
In a sea of Portugal's granite cobblestone streets, the Douro Valley in Portugal is an island of schist - this slate-like metamorphic rock often occurs in vertical outcroppings. Vineyard roots pry into the schist and grow deep in search of water, gaining minerals and "character" along the way that translates into the unique complexity and quality of the Douro's Ports and dry wines.
The Douro's 150+ native grape varieties have adapted over centuries to Douro's hot and arid climate, and are actually quite drought and pest resistant, hence, organic and low-intervention viticulture practices are tradition here, not trends. In fact, Portugal's most noble red grape variety, Touriga Nacional, which thrives in Douro, has moved into Bordeaux's, California's and Australia's vineyards as a potential contender to survive the effects of climate change!
Cool, humid and lush Baixo Corgo is Douro Valley's first sub-region past the Mourão Mountain Range, which protects Douro from the Atlantic ocean influence that has you dressing with layers and having a windbreaker or rain jacket on hand at all times in Porto. While not the ideal climate for grade A Port vineyards, Baixo Corgo does produce fine dry white wines. In fact, Baião, Vinho Verde's most southern sub-region that produces notoriously white, light and quaff-worthy dry wines, borders Baixo Corgo and is worth a day trip if you want to hit two wine regions in one trip. Régua and Vila Real - Douro's largest and most "dynamic" cities, Lamego - full of culture, and steps up to the hilltop chapel, and Armamar - Portugal's Mountain Apple Capital are all also worth a visit.
Cima Corgo, the heart of Douro, is home to a concentration of the highest grade A vineyards, exposed to intense sunny, hot and dry weather that produce the most mature grapes for the highest quality Port, as well as more concentrated dry wines. 70% of the land here is at a 30% slope which man modified centuries ago, building stone wall terraces to grow vineyards from the banks of Douro River up to the tallest 850 m mountain tops! Here, you can visit the picturesque riverfront town of Pinhão and the quaint hilltop towns of Alijó and Favaios.
Douro Superior is Douro's most hot and arid subregion that stretches until the Spanish border with sparse (but growing!) vineyards on higher elevation plateaus that are easier to mechanize and are becoming trendier sites for producing fresher and dryer red and white wines. If you made it this far into Douro Valley, don't miss the Foz Coa Archeological Park - a major site for outdoor paleolithic rock art near the beautiful Douro Internacional National Reserve!
Now that you have the history down, check back in for our next blog posts with our tips about tasting, storing and pairings the wines and ports of the Douro Valley plus, our top recommendations for visiting the Douro Valley!
Today, wine critics and consumers all over the world are incredibly excited about Douro's dry red, white and rose wines not merely as Port's byproduct, but as shining stars on their own, bringing novel recognition and promise to this classic wine region!
We hope you enjoyed these insider tips and Portuguese fun facts! Cheers - The Farah Team
Discovering Pastel de Nata in Lisbon
Joana Carmo / Portugal Travel